WHAT I'M LISTENING TO
Lee "Scratch" Perry, "Dub-Triptych"
The Grateful Dead, "American Beauty"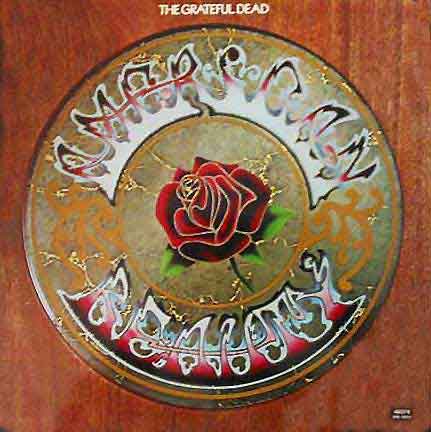 I went through a brief & shallow period of exploring reggae & the Grateful Dead during my sophomore year of high school (oddly enough, it was the same time I started "experimenting" with closet gardening & wearing tie-dyed t-shirts...hmm) but I never really got beyond "Skeletons From the Closet" and Bob Marley's "Legend". After that short-lived hippie period, I quickly (and unfairly) dismissed reggae & the Dead as "stoner music" and stopped listening to it for quite a while. Over ten years, in fact.
Mostly it was the concept of what the music represented to me that turned me off: white "trustafarian" kids with dreadlocks who reeked of patchouli, and whose concept of "revolution" and "dropping out of society" was attending an expensive out-of-state college on their parents' dime & getting high all day, driving around in a $40k Land Rover they got for their 16th birthday. I had a difficult time reconcilling how someone could considered themselves "non-conformist" and "free-spirited", yet only hang out with people who wore the same uniform and listened to only the same music.
But there was my mistake. I had associated the music to the people, but I had it backwards--these people
associated themselves
to the music. And they had every right to do so. But reggae music inherently has nothing to do with rich white slacker kids in America. And neither does the Grateful Dead.
So recently, as I've been exploring one genre of music after another as fodder for this blog, I decided to give the "hippie music" a second chance. I thought it wasn't fair to dismiss entire genres of music or the output of an incredibly prolific and well-loved band based on a couple of albums & stereotypes. So during a recent trip to the record shop, I picked up the HDCD remastered "American Beauty" and Lee "Scratch" Perry's "Dub-Triptych"
"American Beauty" is everything the title insinuates: a truly gorgeous collections of songs, steeped in Americana & filled with gorgeous (yet casual and humanly imperfect) vocal harmonies & delicate instrumentation. While I found a couple of new surprises on this disc, it was also nice to revisit why classic songs such as "Friend of the Devil", "Sugar Magnolia" and "Truckin'" are classics. While the latter is probably one of my least favorite Dead songs (maybe just from severe overplay), it was nice to realize anew how amazing the interplay between the mandolin & the fingerpicked guitar is & how the subtle bassline and jazzy percussion holds it all together, but with an open palm.
I'd heard Lee "Scratch" Perry's name dropped hundreds of times over the years (especially in connection with the production of Bob Marley's albums) but I didn't start exploring his music until recently. "Dub-Triptych" is a real treat of an album (well, it's actually a remastered collection of three albums in a 2-CD set) that relies on instrumentation and not a thick Jamaican accent or political lyrics to make its point. The first track, "Cloak & Dagger", gains just as much strength from its jazz horn section as it does from the foot-tapping carribean beat, while other tracks like "Hail Stone" combine beautiful muted organ melodies with subtle guitar and mellow percussion. The ecclectic and playful instrumentation in "Table Turning" is particularly impressive, with it's repetitive horn & organ interplay reminding me a bit of Screamin' Jay Hawkin's classic "I Put A Spell On You".
So, yes, I am again a fan of reggae and the Grateful Dead. Nearly a decade later, without a single tie-dye shirt in my closet. It's a good lesson for any of us--you can teach an old dog new tricks. Or reteach him old tricks that he never quite perfected back in the day. Or something like that....